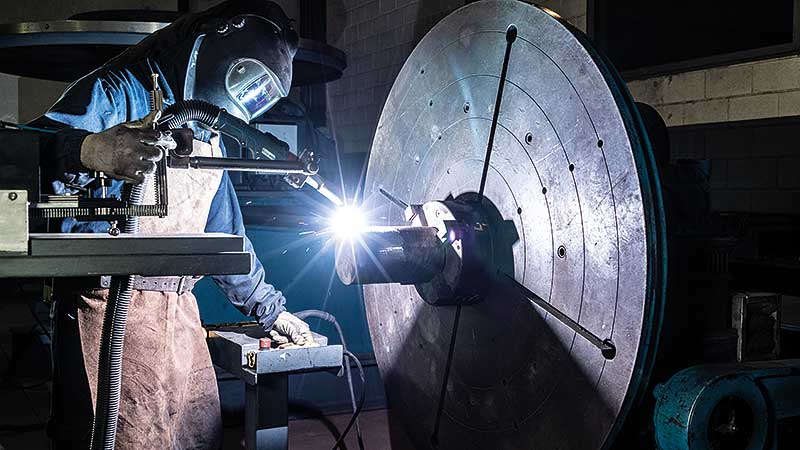 ACTIVITY SECTORS AND PRODUCTS
More than half a century in the world of mechanization, special weldings and overlay weldings. Time endorses our experience in that sector.
During all this period of time one of our strong points has been the diversification. Which has permitted our company to feel comfortable in related areas such as the industrial, petrochemical, military, naval, mining and energy areas among others.
Besides the machining of medium- and large-size parts for the aforementioned sectors, we are specialized in anti-wear overlay weldings resistant to abrasion, corrosion and impacts through Plasma Transferred Arc Welding (PTA) in which we use a wide range of filler materials according to customer requirements.
By means of this system we can considerably lengthen the lifetime of many of the parts, which results in a considerable save of money for our customers both in the purchase of new components and in the duration of the maintenance operations. In this way we can considerably reduce the plant shutdowns to substitute the components which could be initially taken as a loss.
As it could not be otherwise, we have homologations for both procedures and welders for a multitude of materials as appropriate.
We also manufacture custom hydraulic hoses in which we use Aeroquip-Eaton brand components.
Another important part of our business are the bimetallic parts "clads", increasingly used in sectors such as marine and industry. We have been manufacturing laminated aluminum steel bimetallic parts since 1991 and currently we can offer bimetals by explosion process using different materials such as: carbon steel, stainless steel, copper, aluminum, nickel, titanium, duplex, etc.